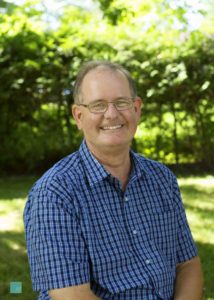 Pastor's Blog
Even when I am old and gray,
do not forsake me, my God,
till I declare your power to the next generation,
your mighty acts to all who are to come.
Psalm 71:18
Last week, in the church office, we were asked for a list of names of those in our congregation who would be 80 years old or older in 2019. There was some surprise to find that the list had 58 names. When it was narrowed down to those who would be 85 or older in 2019, the list included 30 names.
My first reaction was, "that's a lot of old people."
When I mentioned these numbers to someone else, their reaction was, "What a lot of wisdom!"
As we think about those who are advanced in years,
consider the blessing of so much living history;
consider the gift of years of accumulated wisdom and experience;
consider the numerous experiences of God's faithfulness.
Those who are advanced in years continue to have much to offer. How will you share your wisdom and experience? Don't wait to be asked. How will you bless others with the blessings that God has given to you?
If you are not in that age category, how will you learn from those who have experienced God's power and seen his mighty acts?
It's a blessing to have a church family that includes people from various generations. Consider creative ways to interact and bless each other.
It's easy to focus on being old as something negative or focus on the reality of death. Let us instead live each day to the fullest, living and sharing our hope and confidence that God's story continues from one generation to the next.
Listen, dear friends, to God's truth,
bend your ears to what I tell you;
stories we heard from our fathers,
counsel we learned at our mother's knee.
We're not keeping this to ourselves,
we're passing it along to the next generation—
the praiseworthy deeds of the LORD,
his power and the marvelous things he has done.
Psalm 78:1-4
Already….but not yet.
Jesus has already won the victory, but we do not yet experience the completeness.
We know that God is already on the throne but the devil continues to prowl around like a lion, seeking whom he can devour (1 Peter 5:8).
We know that we are children of God, but we have our times of doubts and uncertainty.
What difference does faith make in our lives? How much does our faith impact how we think? how we act? how we live in hope? how we respond to the daily events around us? how we interpret and understand the news headlines? In Acts 2:42 we read that those who came to believe in Jesus and formed the early church "devoted themselves to the apostles' teaching and to fellowship, to the breaking of bread and to prayer." As God's church in 2018, what are we devoted to? How much does God's Word impact our lives? How important and valuable is fellowship with other believers? Does worship and communion hold an important place? How does prayer inform our activities, our service, our ministries, our relationships? This fall I will be preaching on the book of Hebrews to help us consider these questions. The book of Hebrews was written to Jewish Christian believers who were facing times of hardship, possibly in the form of public ridicule or rejection. Their response seems to be letting go of hope or second-guessing their assurance of faith. There seems to have been indifference and a sluggish attitude to their faith. There is even a concern that some members of the community have stopped coming together to pray (10:24-25). The author of the book of Hebrews encourages them to "lift your drooping hands and strengthen your weak knees" (12:12). Through a renewed focus on Jesus as the fulfilment of promise, there is encouragement to renew their faith and live out that faith with enthusiastic commitment. It is a renewal to be "devoted to the teaching, to fellowship, to the breaking of bread and to prayer." Let us persevere in living our devotion to Jesus with this enthusiastic commitment.
The Ascension of Jesus
In the church (and in society) there is a lot of emphasis around celebrating Christmas and Easter. There are concerts and pageants and parades and gifts. We have heard the stories over and over of Jesus' birth, the Magi, the events of Good Friday, the wonder of the empty tomb on Easter morning.
But the resurrection was not the end of Jesus' ministry on earth. He spent another 40 days teaching his disciples about his kingdom and then he ascended to heaven. The ascension and Jesus' enthronement at God's right hand as King and Lord of all is certainly worth celebrating.
In the study guide for the Ray Vander Laan video series, "The Mission of Jesus," the author writes:
"The ascension declares that Jesus is enthroned in heaven as Lord of all—right now. Jesus' ascension is the basis for his claim to every square inch of God's world—all of creation and human life. It is a power declaration that 'Caesar'—whatever form he takes—isn't Lord. Jesus is! Satan wields great power, yet he ultimately is not in control—even in this world. Jesus alone is the ascended Lord, seated at God's right hand and in charge of all things right now and right here.
"For those of us who follow Jesus, the ascension is a clarion call to living an obedient life in service to him, the King of kings. From his throne in heaven Jesus is in control on earth, and he commands his disciples to be living witnesses of his authority so that by obeying him in every part of life, his kingdom will come on earth as it is in heaven. Therefore, we must live in light of the ascension. It must shape our worldview and pattern for righteous living. Since Jesus is Lord, we must strive to do everything in obedience to his will and thereby display him in every sphere of human activity so that one day everything in this sin-filled world will be redeemed and restored.
"We are partners with God in extending his reign until all things are under his feet and every knee shall bow and tongue confess that he is Lord of all" (see Philippians 2:9-11).
Jesus ascended 40 days after his resurrection so, in our calendar that would be Thursday, May 10. We will learn more about the meaning of the Ascension of Jesus in our Fellowship & Study time on April 29. We will have a special focus on celebrating the Ascension of Jesus in our Sunday morning worship service on May 6.
"Lent is a time to refocus and reframe our practices, clearing spaces in our minds and hearts to see and grasp anew the self-giving grace of our Lord Jesus Christ."
(Rebecca Hoeksema Snippe, Reformed Worship 126, Dec. 2017, p. 30)
Ash Wednesday, February 14, marks the beginning of the liturgical season of Lent. Easter Sunday is on April 1. The forty days of Lent begin with Ash Wednesday and end at dusk the Saturday before Easter, not counting the Sundays in between.
The season of Lent can be a time to pause and reflect. With our busy schedules and deadlines, this is not something we typically write into our calendar. Consider how you might do that this year during Lent. Pause, reflect, refocus, reframe, clear spaces, check priorities. What does the self-giving grace of Jesus mean in your life?
The season of Lent can be seen as a time for repentance and renewal to strengthen one's faith. One way to refocus or reframe or clear spaces is to give something up. This change in some routine practice gives us pause to think about why we have made that change.
Or perhaps the time to refocus and reframe our practices is done by starting something new, something not commonly part of our routine. This might be an attitude to reflect Christ, or a practice of daily Bible reading or daily prayer, if that is not already part of your routine. Take on a new spiritual discipline for this 40 day period and find how it develops into a regular habit that continues beyond the season of Lent. Perhaps it is a weekly conversation with 4 or 5 other people to look at the questions for reflection on the morning service and worship experience. How did the message speak to you about curiosity, love, authenticity, integrity, courage?
In this season of Lent, take time to pause. To stop and reflect. To listen to what the Lord is saying to your heart. Share your experience with at least one other person.
To God be the glory!
"Whoever has ears, let them hear what the Spirit says to the churches."
Revelation 2:7
Remember the Church Life-Cycle workshop of October 2014?
Remember the discussions in November 2014 about what Bethel CRC does well,
about where the Holy Spirit is leading our church,
about where the Lord is leading us to live out our faith to impact the lives of others in our family, neighbourhood or community?
You're not alone, if you don't remember those discussions. But even if we don't remember the specifics, I do believe that the Holy Spirit has been at work in our church since those conversations took place. Have you seen relationships developing, in your own life or in the lives of others? Have you had a sense of a direction where the Lord is leading Bethel Church?
How do we decide what the Spirit is saying to this church? It may be through a particular direction or emphasis that has been developing. It may be through recurring themes in our conversations with each other. It may be through certain thoughts, themes, emphases that come through as we read and study the Bible, either alone or with others.
The direction for the focus or emphasis of ministry at Bethel Church is not simply something that the Council can decide on its own. Nor is it something that the Pastor will proclaim. The Lord is at work in his church, a body of believers who serve together, using the gifts that have been given to each one of us.
Let us share what we are hearing, seeing, sensing. Take time to write down your thoughts as the Spirit has been leading. Take time to share your story of how you have seen the Lord at work at Bethel Church.
Or place your insight in the Inbox outside the church office door.
Or invite your elder over for coffee or lunch and share your story face-to-face.
Let us commit ourselves to pray together for wisdom to discern the Lord's leading for His church here at Bethel.
Sabbath and Sabbatical
There is a pattern in the Bible of work and rest. The pattern is often tied to the number 7. God rested on the seventh day. In the laws given at Sinai, God instructed his people to give the land a rest every seven years, calling it a sabbath year. After 7 sabbath years, they were to celebrate the Year of Jubilee in the 50th year (see Leviticus 25).
Following this pattern, we celebrate a weekly day of rest and worship. The Council at Bethel has also decided that, following this 7 year pattern, it is important to provide a sabbath rest to the Pastor. What that means is that Council has granted me a 3 month sabbath (or sabbatical) this year, which I will begin after Easter Sunday. (Yes, I have been Pastor at Bethel for 7 years already.)
Last February I wrote a Pastor's Piece about Sabbath. It was a reflection on a personal, spiritual retreat which I had a couple weeks earlier. At that time, I wrote, "The purpose of sabbath is not simply to rejuvenate myself in order to have energy to work harder when I get back from a retreat. The purpose of sabbath is to enjoy God, to enjoy life in general and celebrate what I can do with the gifts and abilities God has given."
From April 17 to July 3 I will be taking time for rest, reading, study, relaxation, and spending time with family. It will be a sabbath from all responsibilities at Bethel Church. Council is putting together arrangements so that the various ministry responsibilities will be well taken care of.
I am very thankful for this opportunity. I was privileged to have a sabbatical in my previous congregation and appreciated the value of extended rest from the daily and weekly responsibilities of ministry. I am looking forward to this as a time to renew energy, as well as to renew my focus on ministry and discern the Lord's leading for continued ministry.
"A shoot will come up from the stump of Jesse;
from his roots a branch will bear fruit.
The Spirit of the LORD will rest on him…."
Isaiah 11:1
A shoot…a branch…bear fruit: the sign of new life and new beginnings. Jesus came to overcome the power of sin and bring that new life. Through Jesus the Spirit rests on each one of us that we can also bear fruit.
Inspired by this verse, the Jesse Tree has become a very old Christmas tradition. It is used to help tell the story of the Bible from creation to the Christmas story. The story is told through symbolic ornaments, sometimes called chrismons or "Christ monograms."
An apple, an ark, stars, rope, a mallet and wood plane, a ladder…find the various symbols scattered throughout the Bethel News. What story do they remind you of? What promise is God making in that story? How is that story part of God's bigger story of sending Jesus?
Let those stories of God's faithfulness in the past be a reminder that we can trust in God in the present.
Let those stories inspire our hope in God's promises for the future, especially the anticipation of Jesus coming again.
During our Advent celebrations, beginning on November 27, we will be looking at the messages being given through various chrismons. Each week, new ornaments made by different groups and individuals in the church will be placed on the Jesse Tree. If you would like to make one or more of these symbols, please talk to Trish deSchiffart.
The Song Sparrow
"All things bright and beautiful,
all creatures great and small,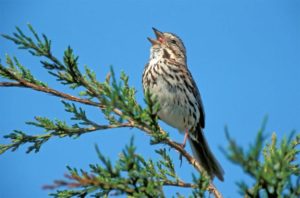 all things wise and wonderful–
the Lord God made them all.
"Each little flower that opens,
each little bird that sings…"
Among the various birds that frequent the trees and bushes around our house is the song sparrow. Not only is the song of this bird very pleasant to hear. It's also a joy to watch this bird sing. In fact, it's an inspiration.
This little bird will perch itself on the top of a bush, throw its head back, and sing. And sing! It might be a small bird, but it has a lot of volume and a distinct, cheerful song.
I said that it is a joy to watch this bird. Whenever I see it and hear it, I have the sense that this bird sings with pleasure. It sings often. Its always sings at full volume.
This song sparrow is also an inspiration. It reminds me of the little and big blessings in my life. It reminds me to sing and express thanks to my Creator, who is also my Father.
How do you express your joy and thanks to God? Is it a silent prayer? Is it a prayer spoken out loud? Is it a song in your heart? Is it a song on your lips?
We can express our joy and thanks as individuals. What a blessing to have opportunity to join with others each Sunday to sing our praise to God.
Membership: Faith and Action
In a recent interview in the Christian Courier, Brian Stiller, former director of the Evangelical Fellowship of Canada, says, "Faith is what you exercise, not what you believe. Belief is the set of assumptions that one believes is true, but faith is the activity by which a person acts on what the belief is and by faith you extend that into action."
In our recent Fellowship & Study sessions, we have been looking at the story of Israel after their exodus from Egypt. The building of the tabernacle and the laws in Leviticus and Numbers highlight the covenant relationship between God and his people: "I am your God and you are my people." That covenant includes both promises and obligations, both belief and action. At our recent Consistory (elders) meeting, we had a discussion about membership in the church. What does it mean to be a member? We concluded that membership includes both belief and action. There is more to being a member in the family of God than merely professing faith and having your name on a church list; there is also the expectation of acting on that set of beliefs. There is more to being a member than merely identifying as one of God's children. There is also the expectation of living out that identity in our daily lives. In our May 29 worship service we read from the Contemporary Testimony and the Heidelberg Catechism, testifying: God the Spirit lavishes gifts on the church in astonishing variety… equipping each member to build up the body of Christ and to serve our neighbours. The communion of saints means that each member should consider it a duty to use these gifts readily and cheerfully for the service and enrichment of the other members. What does it mean to you to be a member of the church of Jesus Christ? Of Bethel CRC? What do you believe? How are you living out that faith?
Tears
Tears are part of life. They are nothing to be ashamed of. We need not apologize for our tears.
There are different reasons for our tears. There are tears of confession, admitting heartfelt sorrow, sadness over wrong. There may be tears when we receive the amazing blessing of forgiveness and restoration. After denying Jesus, Peter went outside and wept bitterly (Matthew 26:74,75). The apostle James writes: "Come near to God and he will come near to you. Wash your hands, you sinners, and purify your hearts, you double-minded. Grieve, mourn and wail. Change your laughter to mourning and your joy to gloom. Humble yourselves before the Lord, and he will lift you up" James 4:8-10.
We might also shed tears of commitment, like the apostle Paul says in Acts 20:19, "You know how I lived the whole time I was with you, from the first day I came into the province of Asia. I served the Lord with great humility and with tears, although I was severely tested by the plots of the Jews." For Paul, no sacrifice was too great, no burden was too heavy, no affliction was too severe. When we express total commitment, the Spirit enables us to serve, even if that is not easy.
In Romans 12:15 we read, "Rejoice with those who rejoice; mourn with those who mourn." There are times when we shed tears of compassion , sharing our heart of love and care for others. Words do not need to be spoken when tears express our heart.
We live in a world where tears are part of life. We do not shed tears without hope. While there is challenge, weakness, sickness, loneliness, and loss, which bring tears, there is also the promise of victory. Jesus died, but he rose again!! We know and believe the best is yet to come: "Now the dwelling of God is with his people, and he will live with them….He will wipe every tear from their eyes. There will be no more death or mourning or crying or pain, for the old order of things has passed away" (Revelation 21:3-4).
It's OK to shed tears. It says how we feel. We do so in hope. God knows our hearts and the struggles of this life that bring tears. He promises victory in the resurrection of Jesus Christ.
It's Friday. But Sunday's comin'
The snow has gotten deep in the last couple of weeks. But Spring is coming!
In the warm sun, just over 2 weeks ago, the daffodils were peeking up out of the ground. Now they are nowhere to be seen. But Spring is coming!
The green grass is covered. The winter chill is in the air. But Spring is coming!
The sadness, discouragement and pain that is so much a part of our lives and of our world is sometimes described as the winter of our souls. But we also know the resurrection victory of Jesus! There is new life. Hope. Victory.
This was expressed in a lesson by S. M. Lockridge, a prominent African-American preacher (1913-2000), entitled, "It's Friday. But Sunday's Coming!" The narrative of Jesus' crucifixion is one of betrayal, denial, cowardice, envy, hate, brutality, suffering, despair, defeat, death.
Christians celebrate the cross because the story does not end on that fateful Friday. It does not end at the cross. The irony of the cross is that the very instrument Jesus' enemies used to defeat Him became His greatest victory. Little did they know when Friday ended what would happen on Sunday to change the course of the world's history.
Here is part of that famous sermon by Lockridge. As you read this, just remember that regardless of what today brings, regardless of today's problems, challenges or defeats, remember that Sunday's coming!
I know it's Friday. But thanks be to God that Sunday's coming! It's Friday. Jesus is praying. Peter is sleeping. Judas is betraying. But Sunday's comin'. It's Friday. The disciples are running like sheep without a shepherd. Mary is crying. Peter is denying. But they don't know that Sunday's comin'.
It's Friday. See Jesus walking to Calvary. His blood dripping. His body stumbling. And his spirit's burdened. But you see, it's only Friday. Sunday's comin'.
It's Friday. The world's winning. People are sinning. And evil's grinning. But Sunday's comin'.
It's Friday. He's hanging on the cross. Feeling forsaken by his Father. Left alone and dying. Can nobody save him? It's Friday. But Sunday's comin'.
It's Friday. The earth trembles. The sky grows dark. My King yields his spirit.
It's Friday. Hope is lost. Death has won. Sin has conquered. and Satan's just a laughin'.
It's Friday. Jesus is buried. A soldier stands guard. And a rock is rolled into place. But it's Friday. It is only Friday. Sunday is a comin'!
"Thanks be to God! He gives us the victory through our Lord Jesus Christ!" 1 Corinthians 15:57
Sabbath
"Be still and know that I am God." Psalm 46:10
At the end of January I spent 4 days on a personal, spiritual retreat. I approached the week as a time of sabbath, because the meaning of sabbath is rest. It was a week alone with the Lord, my Bible, and some other books. I spent a week without telephone or internet access. What did I learn or experience from this sabbath?
I was reminded that I am not indispensable. Life and ministry will go on without my direct involvement. Meetings will happen, people will make decisions and go through various experiences without my presence and input. And that's OK. I was reminded that I can survive without "screens" and without checking my email several times a day. I enjoyed the discipline of finding other things to do instead of going online or watching another show. I took walks on the large property of this Retreat Centre. These walks through open fields and on a forest trail provided a quiet time to enjoy creation. Seeing numerous deer, hearing the birds, watching squirrels playing, listening to the quiet babbling stream added to that enjoyment. It was a wonderful reminder of God's care for creation, and it didn't depend on me. It was there for me to enjoy, and be reminded that God also cares for me. While I did miss the daily conversations and communication with Jane, I knew that she could contact me through the Retreat Centre office if there was an emergency. It was a reminder of the blessing of the commitment in our relationship, even if we cannot speak our love to each other each day. All of this enriched the deeper experience of sabbath, which is to rest in God's care, to trust that he is in control and at work in our world. It doesn't depend on me. But the purpose of sabbath is not simply to rejuvenate myself in order to have energy to work harder when I got back. The purpose of sabbath is to enjoy God, to enjoy life in general and celebrate what I can do with the gifts and abilities God has given, and to know that I am free from having to perform to a certain standard in order to be good enough. I am free, in Christ, to be all that he has made me to be. While I am thankful for several days of sabbath rest, I also know that this experience of sabbath is not limited to those few days that were set aside. I am reminded of the blessing and importance of a sabbath day every week. It is a day to set aside our activity and stop, to be reminded that it's not about me. God is in control. "There remains, then, a Sabbath-rest for the people of God; for those who enter God's rest also rest from their own work, just as God did from his. Let us, therefore, make every effort to enter that rest." Hebrews 4:9-11
Soaring Into 2016
We do not limp into a new year. We do not crawl into a new year. We do not look over our shoulder as we begin a new year. We soar, surge, fly, climb. Like an eagle gliding through the air, there is movement, confidence, progress. (See the New Year's Day message, which can be found under Worship Services.)
On January 29, 1950, Bethel CRC was officially organized as church in the Christian Reformed denomination. As we celebrate the completion of 65 years of ministry at a special banquet on January 30, 2016, we commit ourselves to soaring into the future.
What does 2016 and future years hold for the ministry and life of Bethel CRC? I am certain that there will be changes. Already now, we are not doing things the same as we did in 1950. I don't know exactly what other changes will take place in this coming year, but there will be change.
What I am excited and confident about as we soar into 2016 is that the Lord will lead us into these changes, these new expressions of faith and life as his church. In January, I will begin a sermon series on the words of blessing that Jesus spoke in the beginning of the Sermon on the Mount. Dale Bruner, in his commentary on Matthew, says "The Beatitudes must first be heard as grace…[They] are first sheer gifts." They are gifts to people who
feel
their need, who
serve
others with the grace they were served, and who
suffer
even as they are graced and helpful.
Soaring into 2016, we look forward to serving with neighbouring churches as we sponsor a refugee family coming to Brockville. We look forward to serving as we bring good news to about700 children in our community as we help out with Easteriffic on March 26. We will serve through our generous giving to the ministries of our church and denomination and to numerous special causes. We will serve in new ways that we have not considered yet, opportunities which the Lord will place before us.
Soar into 2016! Let the wind of the Spirit lift your wings of faith. See what God is doing, and what he can do!
To God be the glory!
~~~~~~~~~~~~~~~~~~~~~~~~~~