Worship Services each Sunday at 10:00 a.m.
Nursery is provided in the morning service.
Kids Club for children ages 3 to Grade 4 is held during the worship service

.
Upcoming Worship Service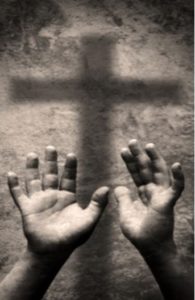 "Not what my hands have done can save my guilty soul….
Not what I feel or do can give me peace with God….
Your voice alone, O Lord, can speak to me of grace;
Your power alone, O Son of God, can all my sin erase…
My Lord has saved my life and freely pardon gives;
I love because he first loved me, I live because he lives."
The words of this familiar hymn have inspired our Lenten theme of "These Hands." As we reflect on the work of Jesus during his life and ministry on earth, we see the different ways that his hands touched many lives. Take time, during this season of Lent (which began on March 6, Ash Wednesday, and continues till Easter) to reflect on how the hands of Jesus are touching your life and the lives of those you love. Consider how we might also be the hands of Jesus that touch the lives of those around us with his love.
March 24, 10 a.m.: Matthew 14:22-36, "These Hands Rescue" This service will be led by Mr. Chris Smid from Athens, who is currently enrolled in the distance education program at Calvin Theological Seminary.
March 31, 10 a.m.: John 3:35; John 10:28-29, "These Hands Hold"
March 31, 6:15 p.m.: time of prayer for a new growing season
April 7, 10 a.m.: Pastor Marilyn Savage will be leading worship.
April 14, 10 a.m.: Matthew 21:12-17, "These Hands Rearrange"
April 18, 7:00 p.m.: Maundy Thursday service, "Passover Fulfilled" is a service following the Seder meal and pointing to its fulfillment by Jesus in the celebration of the Lord's Supper
April 19, 9:30 a.m.: Good Friday, we will join other churches for the Walk of the Cross in downtown Brockville, with an ecumenical service at First Baptist Church at 11 a.m.
April 21, 6:00 a.m.: Easter Sunrise Service at Centeen Park
April 21, 10 a.m.: Easter Service, Luke 24:39-40, "The Hands of Life"
April 28, 10 a.m.: 2 Corinthians 9:8, "Be a Blessing" GEMS Sunday celebration
Current Sermons Available for Download: